Dear Friend,
I am pleased to present my electronic newsletter. These e-newsletters enable me to provide information about issues, events and activities in Harrisburg and around the 47th Senatorial District to you in a timely manner while saving postage costs.
If you find this e-newsletter useful, I invite you to visit my website www.senatoreldervogel.com for more information about your state government. If you do not wish to receive these e-newsletters, please click the "unsubscribe" button at the bottom of the page.
Sincerely,
Elder Vogel
---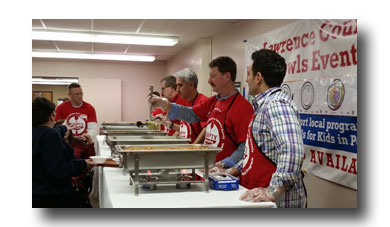 I had a great time participating in the Empty Bowls Fundraiser for the Lawrence County Summer Food Program. Click here for more info.
---
Governor Wolf Cuts Funding for Beaver, Lawrence, Butler Co. Schools
Philadelphia, Pittsburgh, Eastern PA School Districts gifted millions in additional state dollars
A new education funding formula developed by Governor Wolf will cut a cumulative total of $1.2 million from state funding appropriated to local schools in Beaver, Lawrence, and Butler Counties.
Last month, Republicans and Democrats in the legislature came together to restore nearly $6 billion in funding for school districts that Governor Wolf had previously cut with his line-item veto—a $200 million increase in school funding over the 2014-15 budget. Importantly, this was done without having to ask Pennsylvania taxpayers for an additional cent from their wallets.
Accompanying this budget was the "fiscal code"—an integral part of any state budget which provides the instruction manual for how to spend the money appropriated in the budget. According to the fiscal code, school districts in the 47th Senate District were to receive roughly $4.5 million in additional funding due to a newly implemented, bipartisan school funding formula—a formula that Governor Wolf once described as a "big step forward for the people of Pennsylvania." When Governor Wolf announced that he would veto the fiscal code but allow the budget to pass, he threw out this agreed-to, bipartisan school funding formula and took matters into his own hands, arbitrarily picking winners and losers in regards to state funding for education.
Unfortunately, most schools in Beaver, Lawrence, and Butler counties are losers under Governor Wolf's plan. Most notably, New Castle School District saw their funding cut by over $333,000 from what would have been allocated by the budget passed by the Legislature. Seneca Valley School District saw their funding slashed by over $205,000 while Blackhawk Area School District was cut by over $122,000. In fact, nearly every school district in all three of the counties that I have the privilege of representing had their funding cut under Governor Wolf's spending plan.
Meanwhile, Philadelphia School District was gifted over $34 million in additional funding, Chester-Upland School District $14.4 million, and Pittsburgh $4.4 million in additional funding over what was allocated by the legislature-approved budget.
I and my colleagues in the legislature increased funding for all Pennsylvania schools in a fair, equitable, and bipartisan manner last month. It's very troubling to now learn that Governor Wolf has thrown out that spending plan and is unilaterally doling out funding as he sees fit—a move that is constitutionally questionable, at best. But most troubling to me is the fact that school districts in Beaver, Lawrence, and Butler County have lost over $1.2 million in additional funding as a result.
Below is a breakdown of how school districts in the 47th Senate District will be impacted by the governor's arbitrary funding formula compared to the bipartisan school funding formula approved by the legislature:
Lawrence County
| | |
| --- | --- |
| Ellwood City Area School District | -$43,985 |
| Laurel School District | -$8,851 |
| Mohawk Area School District | -$65,060 |
| Neshannock Township School District | -$36,027 |
| New Castle Area School District | -$333,701 |
| Shenango Area School District | -$41,220 |
| Union Area School District | -$46,003 |
| Wilmington Area School District | -$9,961 |
Beaver County (47th Senatorial District portion)
| | |
| --- | --- |
| Ambridge Area School District | -$36,655 |
| Beaver Area School District | -$20,241 |
| Big Beaver Falls Area School District | -$98,402 |
| Blackhawk School District | -$122,672 |
| Central Valley School District | -$69,208 |
| Freedom Area School District | -$48,186 |
| Midland Borough School District | -$27,655 |
| New Brighton Area School District | -$13,457 |
| Riverside School District | -$22,334 |
| Rochester Area School District | $40,470 |
| South Side Area School District | $27,602 |
| Western Beaver Co. School District | -$15,969 |
| | |
Butler County (47th Senatorial District portion)
| | |
| --- | --- |
| Seneca Valley School District | -$205,701 |
| Slippery Rock Area School District | -$3,599 |
---
Senate Committee Approves Vogel Legislation Saving School Districts Money
Last week, the Senate Judiciary Committee approved my legislation saving school districts money by eliminating the requirement for school districts to annually notify parents by physical mailing that audio is recorded on school buses.
Act 9 of 2014 allowed school districts to record audio in addition to video on school bus cameras—as long as parents were notified by physical mailing each year. Most school districts already alert families by email, parent portal, or telephone mass alert notices in most instances where it's necessary to communicate with parents. Additionally, student handbooks that are readily available already notify parents about audio recordings on buses. Senate Bill 1077 eliminates the redundancy in state law that requires an additional mailing each year, costing school districts thousands of dollars annually.
Budgets are tight all over Pennsylvania; I think it's important that we give schools the ability to save money by embracing technology and eliminating redundancies in state law whenever possible. I hope to see this legislation signed into law in the very near future.

---
Senate Approves Resolution Commemorating the "Battery B Memorial Highway" in Lawrence County
On the morning of June 8, 1961, the Mount Jackson Guards of Mount Jackson, Lawrence County, gathered at the Mount Jackson Methodist Episcopal Church on present-day State Route 108 to bid goodbye to loved ones before going off to fight in the Civil War. This group of more than 80 young men started off on foot for the nine-mile journey to the railroad station in Enon, traveling on present-day State Routes 108 and 551, being hailed by local supporters as they began their journey. The Mount Jackson Guards, later designed Battery B, First Pennsylvania Light Artillery, boarded the train to Camp Wright, Camp Wilkins, and other camps in the Pittsburgh area to prepare to fight the bloodiest battles of the Civil War.
Recently, the Enon Valley Community Historical Society brought to my attention an old New Castle News article reporting that on September 26, 1925, a parade was given to celebrate the completion of a concrete road from Derringer's Corners, North Beaver Twp., continuing to the village of Enon Valley. The article suggested on that historic occasion that State Routes 108 and 551 from Mount Jackson to Enon Valley be named the "Battery B Highway."
I'm pleased to report that my bill designating the section of State Routes 108 and 551 in Lawrence County from the intersection of State Route 108 and Old Hickory Road at the Battery B Monument to State Route 551 ending at the railroad tracks of the Pennsylvania Railroad in Enon Valley as the "Battery B Memorial Highway" was passed on Tuesday and now goes to the House for consideration.
---
Senate Holds Charter School Funding Reform Hearing
The newly-formed Senate Appropriations Education, Workforce, Community & Economic Development Subcommittee held a hearing on a number of proposed revisions to the laws governing charter schools in Pennsylvania. The hearing focused on: (1) Proposed revisions to funding for charter school special education students; (2) Proposed revisions to funding for cyber charter school students; and (3) Making sure that public school districts are refunded if the charter or cyber charter schools' audited expenses are less than the tuition revenue paid to that school.
Click here to watch that hearing in its entirety.
---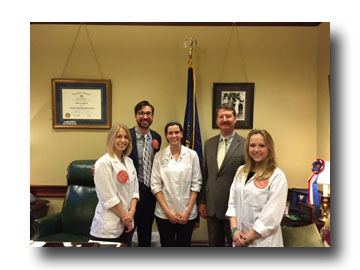 It was great to meet with student-pharmacists from the district at the PA Pharmacists Legislative Day at the Capitol!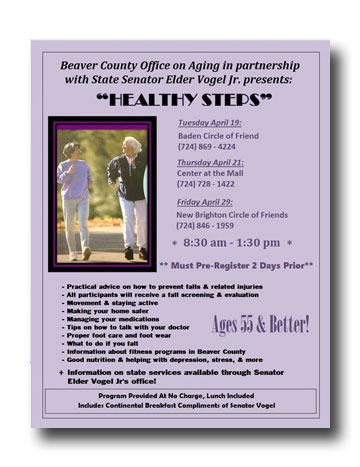 My office, in conjunction with Beaver County Office on Aging, has 3 upcoming informational events for seniors regarding physical health & fitness. See Poster for more information
---
Entrepreneur's Wanted!
The Institute for Entrepreneurial Excellence (IEE) is Western Pennsylvania's #1 resource for business leaders who are starting, growing, or transitioning a business and they are at-the-ready to help you turn your business startup dreams into a reality today!
The IEE is your all-in-one resource to help you meet the challenges of entrepreneurship and can help you find answers to questions like:
Where should my focus be? Sales? Products? Hiring?
Is my business plan compelling? Viable?
Where can I find startup funding?
If you're looking for personal, one-on-one consulting with seasoned advisors, educational workshops geared towards helping your business get off the ground, social events to promote networking with likeminded business professionals, and more, I highly encourage you to check out the Institute for Entrepreneurial Excellence.
---
It was a privilege to welcome the undefeated, PIAA champion Aliquippa High School Boys Basketball Team to the Capitol with my colleague, Senator Bartolotta. Congratulations on a historic season!
---
Harmony-Ambridge Industrial/Commercial Corridor Development
The Ambridge Regional Distribution & Manufacturing Center and community partners Beaver County Corporation for Economic Development, Borough of Ambridge, Creekside Springs, and Harmony Township, have created the enclosed Harmony – Ambridge Industrial- Commercial Corridor Resource Guide (see image below).
The Resource Guide is established as a reference for incentives and resources that these communities can offer to make corporate growth a reality to existing businesses as well as those in the site selection process. They can readily accommodate a broad spectrum of new industries and commercial development.
For more information, see image below and contact Erica Loftus at erica@ambridgeregional.com.
---
"Reverse Transfers"
Pennsylvania students who have transferred from a community college to a State System university can now receive an associate's degree once they earn a total of at least 60 credits.
Click here to learn more about "reverse transfers."
---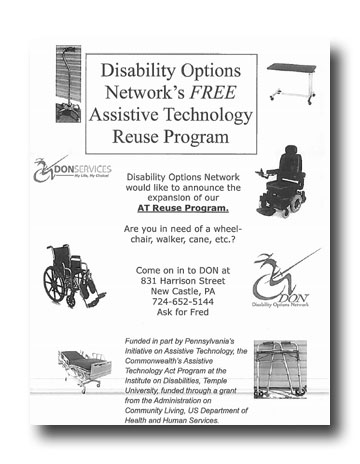 Do you know someone with a disability in need of assistive technology, such as a cane, wheelchair, walker, bed? The Disability Options Network may be able to help. Call 724-652-5144 for more information.
---
Know What's Below
Spring is in the air, but diggers beware. Buried gas and utility lines can be closer to the surface than you think. If you'll be digging, call 811 at least three business days in advance.
A locator will mark the approximate location of buried lines. If you hired a contractor, you should still make sure they call 811.
It's fast. It's free. And, it's the law.
Know what's below. Visit ColumbiaGasPa.com/811 for safe digging tips.
---
Follow Me on Twitter!
I have a Twitter account to better connect with my constituents and provide daily updates on my voting record, whereabouts, state government, and local news affecting the 47 S.D. To access my Twitter page, click here.
Please contact me to provide input on any state-related matter, or to receive help in dealing with a state agency.



Offices
Senate Box 203047
362 Main Capitol Building
Harrisburg, PA 17120-3047
Phone: (717) 787-3076
FAX: (717) 772-2756
District
Monday-Friday
8:30 - 4:30
Rochester
488 Adams Street
Rochester, PA 15074-1940
Phone: (724) 774-0444
FAX: (724) 773-7384
New Castle
1905 W. State Street
New Castle, PA 16101
Phone: (724) 654-1444
FAX: (724) 656-3182