Dear Friend,
I am pleased to present my electronic newsletter. These e-newsletters enable me to provide information about issues, events and activities in Harrisburg and around the 47th Senatorial District to you in a timely manner while saving postage costs.
If you find this e-newsletter useful, I invite you to visit my website www.senatoreldervogel.com for more information about your state government. If you do not wish to receive these e-newsletters, please click the "unsubscribe" button at the bottom of the page.
Sincerely,
Elder Vogel
---


It was great to see everyone at the Ellwood City Memorial Day Parade
---
Calling All Photographers!
Last year's inaugural Scenes from the 47th Senatorial District Photo Contest was a resounding success—hundreds of photos showcasing the beauty of Beaver, Lawrence, and Butler counties were submitted by dozens of photographers from our area.
From rolling farms to bustling main streets, the photo submissions highlighted some of the most beautiful scenery and aspects of life in Western PA. In the end, only the top thirteen—as voted by the public—made it into the Scenes from the 47th Senatorial District Calendar, but there were many, many more photos deserving of exposure.
That's why I'm is once again calling on you to share the local sights and scenes that you capture on film with your 47th Senate District neighbors for the second annual Scenes from the 47th Senatorial District 2016 Photo Contest.
The contest is open to all individuals, children and adults, but photos must have been taken within the boundaries of the 47th District. The contest will remain open for submissions until August 31. Voting will take place from September 6 to 30, with the winners to be announced in October.
Taxpayer dollars will not be used in the production of this calendar.
Click here for more information and to enter your photos into the contest.
---
Potter Township Ethane Cracker Plant Confirmed
As I'm sure you are aware, we received great news yesterday: Royal Dutch Shell announced that they will build the ethane cracker plant in Potter Township. Construction will begin in roughly 18 months.
The economic impact of this decision cannot be overstated: It's the largest capital investment in the history of Western Pennsylvania. Over 6,000 construction jobs created for the duration of the project, which will take at least one-and-a-half years to get up and running, and an expected 600+ permanent jobs once the facility is online. These will be good-paying, family-sustaining blue-collar and white-collar jobs for Beaver County and the surrounding area. It's an unprecedented investment in the future of Beaver County and one that will fuel economic activity and job creation in many different sectors connected to the petrochemical industry.
Behind the scenes, there was a fierce competition for this petrochemical plant with neighboring states. Representative Christiana and I in addition to our other colleagues in Beaver County strongly advocated for legislation to incentivize the creation of this new petrochemical industry back in 2012. Act 85 of 2012, passed by the General Assembly and signed into law by Governor Corbett, provides for performance-based tax-breaks for job creators using Pennsylvania-produced ethane on Pennsylvania-based projects. This legislation paved the way for this, and possibly, many other ethane cracker plants in the future in what could be a new industrial revolution for Western PA.
Yesterday's announcement was an encouraging development in what has been an undertaking in the works for many years. It's the product of cooperation between the private sector, elected officials, and the public with the hopes of good, family-sustaining jobs being brought to our area. We are still a long ways away from the completion of the facility but it is my hope that we are on the cusp of a new industrial revolution in Beaver County, one which will enhance the lives of all Western Pennsylvanians.
---
Thank you to the Neshannock Twp. Vol. Fire Co. & the Western PA Red Cross for teaming up this past weekend and delivering free smoke detectors to many homes throughout the township!
---
Looking Ahead
June 30th is the budget deadline and it's approaching quickly. Last year's prolonged budget impasse was a result of a fundamental disagreement between the Legislature and the Governor about the size and scope of state government. History need not repeat itself this year. We have the means to boost education funding and guarantee that the core functions of state government are fulfilled without massive tax increases.
I intend to put a fiscally responsible budget on the Governor's desk by the June 30th budget deadline. I remain hopeful that both Democrats and Republicans can work together and avoid another repeat of last year's budget stalemate that put schools and vital social services in jeopardy.
---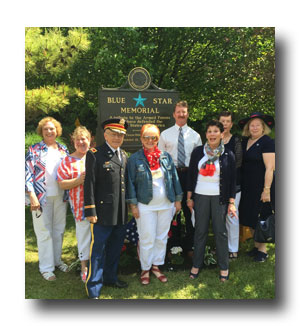 Recently, I was in Rochester with the Tusca-Ridge Garden Club of Beaver County for the unveiling of the Blue Star Memorial dedicated to our armed forces.
---
Battery B Memorial Highway Legislation Sent to Governor
I'm pleased to report that my legislation designating the section of State Routes 108 and 551 in Lawrence County from the intersection of State Route 108 and Old Hickory Road at the Battery B Monument to State Route 551 ending at the railroad tracks of the Pennsylvania Railroad in Enon Valley as the "Battery B Memorial Highway" was recently approved by both the House of Representatives and the Senate. Senate Bill 1153 now awaits the Governor's signature into law.
Click here to read my e-newsletter from earlier this year that explains more about the Battery B Memorial Highway.
---
Unconventional Well Waste Reporting Legislation Introduced
Recently, I introduced legislation to require unconventional well operators (shale drilling) to submit a waste report to DEP every six months.
The biennial waste reports will include information on the amount and type of waste produced, the method of waste disposal or reuse, including the specific facilities or well site where the waste was managed.
Consistent and comprehensive reporting of this information will ensure that we have the data necessary to help protect our environment and natural resources.
Click here to read Senate Bill 1273.
---
On May 24, the Beaver County Sportsmen's Conservation League and many other supporters of the 2nd Amendment joined me & my fellow legislators for 2nd Amendment Action Day in Harrisburg.
---
Confronting the Heroin Epidemic Public Hearing Held
Last Thursday, I was joined by colleagues Senator Bartolotta, Senator Yaw, and other members of the Center for Rural Pennsylvania Board of Directors at the Fez in Hopewell Township for a public hearing on the ongoing heroin and opioid epidemic in Pennsylvania.
Testifiers included experts in the fields of behavioral health, pharmacology, commerce, addiction treatment, and law enforcement. Click here for the full agenda. Three primary themes repeatedly mentioned during the hearings included: educating individuals to the dangers of opioid abuse; increasing the accessibility and availability for those seeking treatment; and providing law enforcement with the tools to help eradicate heroin from our communities.
These hearings, held at various locations throughout the state, have resulted in action by the Senate to address this persistent scourge. Legislation signed into law includes: Act 80 of 2015, establishing the Non-narcotic Medication Assisted Substance Abuse Treatment Grant Pilot Program; Act 139 of 2015, putting Naloxone in the hands of law enforcement and firefighters to combat overdoses; and many other pieces of legislation addressing heroin proliferation and opioid over-prescription.
Lastly, I'd like to thank the Fez management and staff for allowing the Center for Rural PA to hold this critically important hearing in Beaver County. Stay tuned to my Twitter and Facebook in the event that video from the hearing is posted online!
---
Qualifying Water Systems May Receive Free Professional Engineering Assistance
Small and medium-sized public community and nonprofit non-community water systems may qualify for free professional engineering assistance for drinking water systems.
Capital improvement projects and consolidations with other systems may qualify for:
Investigations to determine the cause of the system technical issues;
Feasibility studies to determine the most feasible and cost-effective solution to addressing system technical problems;
Design work related to public water system facilities;
Construction and operational permit applications;
Preparation of funding applications for public water system construction projects; and,
Construction bid preparation and construction contractor procurement assistance.
Click here for more information about the Professional Engineering Services Program administered by the Department of Environmental Protection.
---
Congratulations to the Ellwood City Varsity Softball and the Riverside Varsity Baseball teams, who both won WPIAL titles this past week! Best of luck in the PIAAs!
---
State Lifts Poultry Ban for Fairs, Expos
After a year-long suspension of avian activities at the state's 109 county and local fairs and the 2016 Pennsylvania Farm Show, the ban was lifted on June 1. The ban was set in May 2015 to protect Pennsylvania's $13 billion poultry industry against the threat of Highly Pathogenic Avian Influenza, or HPAI, virus.
With the lifting of the ban, the Pennsylvania Department of Agriculture (PDA) has instituted a 30-day testing protocol for entering poultry exhibits at county fairs. Previously, poultry had to test negative for Avian Influenza at least six months prior to the exhibit date.
More information about HPAI is available at the PDA website at www.agriculture.pa.gov -- refer to the "Avian Influenza" box on the right side of the homepage.
---
The Beaver & Lawrence County Summer Food Programs have many different locations this year throughout the summer. Click on flier for more information and locations.
---
Bicycle PA Route Maps Online
| | |
| --- | --- |
| | The Pennsylvania Department of Transportation and the Department of Conservation and Natural Resources recently launched a new online interactive mapping tool for bicyclists. The Bike Route Map provides detailed bike routes, traffic volumes and speed limits from PENNDOT and includes DCNR information on trails, state parks and state forests. Click here to check it out. |
Follow Me on Twitter!
I have a Twitter account to better connect with my constituents and provide daily updates on my voting record, whereabouts, state government, and local news affecting the 47 S.D. To access my Twitter page, click here.
Please contact me to provide input on any state-related matter, or to receive help in dealing with a state agency.